Keep Track Of Your Model Trains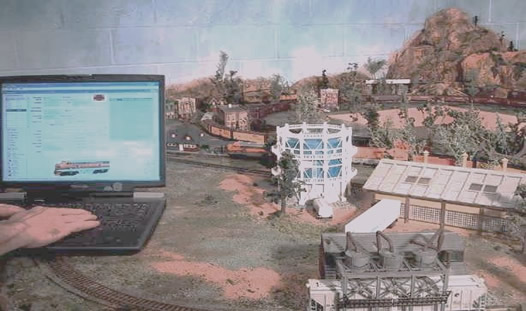 Check Out New Additions to the Latest Version
Features:
Inventory Data Entry:
Reports:
Quick Look-Ups:

Edit and view full screen details for each car or locomotive, or browse through a complete list sorted and arranged to your specifications.
Include photos or drawings of each item.
Use the freeform "notes" data entry area to include unlimited comments, maintenance history, prototype info, etc.
Registered users may customize with the easy filtering system to allow limiting your view or reports to only those items of current interest.
Track costs, values, selling prices, etc.
Get quick answers to your questions with the complete on-line help system.
Make quick work of inventory tasks with add, edit, delete, find, browse, filter and print Quick Control Buttons.
One-Click Totals gives you car counts, averages, costs, grouped as you wish.
Get going in no time with the easy, user-friendly, quick-to-learn interface.

Print or view everything in your database. Include all items, only the specific items you select, or sub groups of your inventory. Print:

Locomotive and rolling stock rosters sorted by reporting marks, categories, or model manufacturer.
3X5 car or locomotive cards with photos, reporting marks, road heralds, car type, and home yard information.
Locomotive DCC list. (A nice card to keep at your control panel listing all DCC addresses of locomotives.)

For registered users:

Labels for storage or car containers.
Columnar photo sheets.
Car cards for operations.
Detailed roster listings.
Inventory values report.
Inventory analysis reports with counts and cost averages by road name, category, etc.
Quick car count totals printouts
Custom reports laid out however you want them to look

Save typing and centralize information with easy lookup tables.

Categories (like Steam, Diesel, Freight-Tank, Freight-Box Car, Passenger, etc.)
Car Types (Like F7, GP-40, Box Car 50' Plug Door, Hopper 50', etc.
Reporting Marks (Like ATSF, DRGW, ABOX, etc.) Add a graphic to display the road herald with your inventory.
Manufacturers (Like Atlas, BLI, etc.)
Dealers (Like Toy Train Heaven, Tony's, etc.)
Status (To keep track of whether a car is operating, in storage, needs repair, etc.)
Configuration (to indicate how the product was originally purchased: Brass, Kit, Ready to Run, Used, etc.)

Starter databases for all above lookups are already included listing many common items.
Enjoy the free shareware version...
It includes:

Unlimited number (up to one-billion) of entries
Detail & Browse views with full editing capability
Full add, search, edit, delete capability
Rolling stock & locomotive images handling
Lookup tables
Road herald & manufacturer logo handling
Reports including Roster, Car Cards, Roster Cards
Create and print Maintenance Logs and Scheduled Maintenance Logs
On screen help files

Set filters for viewing/ printing only a subset of your inventory
Import and export to/from Microsoft Excel and other formats
Use multiple images for each item
Print one-click analysis screens
Print labels and photo labels
Extra reports: Detail Roster, Cost Analysis, Inventory Values and more
Print custom designed reports that you create
Some Real Comments from Real Yard Office Users:
"I am very pleased with Yard Office. This is the third inventory software I have used and the best."
"Your Yard Office is the most user friendly program for Railroad Modeling that I have ever found – and I've looked at many. You have it structured for the way I think."
"I have been collecting for 40 years and have been in the business for 22 years and this is just about the best package I have seen."
"I LOVE your Yard Office software and I rave about it at every train show I go to."
"Things are running great. Over 2000 entries so far."
"Thank you. The Yard Office Software runs great on the Windows side of my iMac."
"I want to tell you how much I like several of the features you have.  When I signed on today, the "Tips & Techniques" told me how to add heralds to the list. It was something that I think is mentioned in the introduction to the program, but now I actually know how to do it. And since, over time, I'll forget some of the less-used techniques, these little reminders are really handy. The "Sort By" function list is excellent. I did a quick sort by dealer, something that many people ignore, and found that I'd made a data entry error. It's fixed now."
"I am very pleased with the program. It does everything that I have asked so far. I am just starting to add the DCC information. Keep up the GOOD WORK!"
"Yard Office is a great program and so easy to use."
"I have been using the software quite often. I sprang for registration to get the extra features. I haven't spent my money in such a good and constructive way for a long time. Great product."
"When I get enough rolling stock I will be using (and registering) your program. I found it really easy to use when I played with it."